EMS-2  Engine Monitor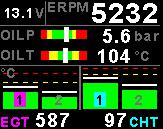 The Blaze EMS-2 is a 3 1/8" universal engine monitor color display instrument. The EMS-2 contains all the necessary functionality to replace several engine monitoring instruments.
The EMS-2 light weight, small size and high level of functionality makes it an excellent choice for all types of engines.
The EMS-2 can also be interfaced via the CAN bus to an optional external RDAC unit (Remote Data Acquisition Computer). This allows for easier installation as the RDAC unit is normally mounted in the engine compartment.
Features
The engine display screen is automatically configured to optimize screen space depending on what engine parameters have been selected
Optional External RDAC (Remote Data Acquisition Computer) interfacing via the CAN bus
EGT/CHT
Can measure up to 4 thermocouple channels using the internal electronics or up to 12 thermocouple channels using an optional external RDAC
EGT/CHT Temperatures can be displayed in ºC or ºF from -100ºC to 1200ºC (-148ºF to 2192ºF)
High accuracy: Built in thermocouple linearization curves and cold junction compensation
Includes an EGT/CHT trend graph display of each thermocouple channel
Records maximum EGT/CHT temperature reached for each channel
Includes an engine leaning feature
Includes an engine cruise feature
Special Rotax 912/914 engine monitor mode utilizing the standard built in Rotax NTC CHT probes
RPM
Single or dual RPM measurement
Includes a magneto check function (needs a single RPM source)
RPM can be displayed in RPM or in percentage
Records maximum RPM reached for each channel
Analog Inputs
Can measure up to 4 Analog channels
Analog channels are universal and can be configured to measure Pressure, Temperature or Current
Current measurement requires a MGL Avionics magnetic field or active current shunt
Pressure can be measured using standard automotive resistive senders (e.g. VDO 2, 5 and 10Bar), Rotax 4-20mA senders as well as voltage output pressure senders (e.g. UMA)
Temperature can be measured using standard automotive resistive senders (e.g. VDO, Westach) as well as the MGL Avionics precision LM335 semiconductor sensor
High accuracy: Built in linearization curves for common senders
Analog channels can be programmed to a user defined curve for custom senders
Supports the Rotax 4-20mA pressure sender as used in the 912/914 engines
Temperatures can be displayed in ºC or ºF
Pressure can be displayed in psi or bar
Records minimum and maximum values reached for each channel
Manifold Pressure
Manifold pressure can be displayed in millibar (mB) or in inches of Mercury ("Hg").
Records maximum MAP reached in permanent memory
MGL Avionics RDAC-XF MAP required
Timers
Displays both UTC (Zulu time) and local time
Time is maintained by an internal lithium battery which can be replaced by the user
Includes a settable Hobbs meter which is password protected
Includes an engine running and flight timer
Includes a programmable maintenance timer for scheduled routine engine maintenance
Provides a 50 entry flight log that stores the start time and duration of each of the last 50 flights. The flight timer can either be started automatically or by using a front push button
Volts
Can measure voltages up to 30V (compatible with both 12V and 24V aircraft supplies)
Contains a programmable low/high voltage alarm to automatically detect alternator failures and bad batteries
Records maximum and minimum Volts reached in permanent memory
Current (RDAC connection)
Uses the MGL Avionics magnetic field or active current shunt to measure the aircrafts current load.
Records maximum and minimum current reached in permanent memory